May 6, 2021 –  testimonial from Tara Lynn M. –  while Scot performed a Singing Telegram at a private party for PARTY TALENT – Bridgeport CT – www.partytalent.com
SINGING BIRTHDAYGRAM video on SCOT's website hiomepage
https://youtu.be/oPd3Yzs-JQc    (Thank You TARA!)
"You have an incredible set of pipes!  This is the best birthday I have ever had in 40 years!  You bring such joy!"
April 17, 2021 – testimonial from Paula S. – while Scot performed a private Birthday partyfor PARTY TALENT in Greenwich CT (Tony J's.) – www,partrytalent.com
"THANK YOU SOOO MUCH! THIS WILL BE A GREAT MEMORY!"
March 24, 2021 – testimonial from Albert & Sandara – while Scot performed a private Birthday party for PARTY TALENT in Westport CT- www.partytalent.com
"Amazing performance!  Thank You!"
M arch 22, 2021 – testimonial from Kerry S. – while SCOT performed in Niantic CT private event for PARTY TALENT –
"Thank You so, so, so much…. my friend was delighted to see it and made her very happy….You made my bestie smile and that filled my bucket so high I can't thank you enough…"
March 20, 2021 – testimonial from Debi C. while SCOT performed at a private event at Casa Mia at Hawthorne (Berlin CT) for PARTY TALENT  www.partytalent.com  –  "THANK YOU so much! You were awesome!"
March 4, 2021 – testimonial from Amy Leventhal while SCOT performed for PARTY TALENT COMPANY
www.partytalent.com
"We hired a singer to show up at my mother's school with balloons for her 70th birthday.  It could not been more special. She was crying. They picked beautiful music and the singer was fun and funny and professional.  I would go through this company over and over again .  Thank you so much for the owner, into the singer and all of you who are a part of this wonderful small business."
April 29, 2020 – testimonial from Laura Feist-Roche – "We recently had Scot perform for multiple families as a part of a promotion for our business.  I won't mince words……he was spectacular.  He went over and above to make sure each family had a special experience and adjusted his performance to his smallest audience members as needed.  Not only did he bring laughter and joy to so many, but he represented our company as his own, with the upmost in professionalism.
He is an extremely talented and flexible performer who goes out of his way to make each performance one of a kind.   Skilled at reading his audience, drawing them in and truly creating something magical with each performance.  We look forward to working with him at future events!"
Laura Feist-Roche
Happy Daze Costumes & Sidekick Promos
650 West Avenue, Norwalk CT  06850  –  Tel. No. 203.847.0542
www.happydazecostumes.com
February 14, 2019 – THE ELEKTRA COMPANY / ABIGAIL DYER PROJECT 142 CONCERT (NYC) –  "The Elektra Company would like to thank Project 142 and Scot Albertson for their kind generous support of our performance of a new English translation of ELEKTRA at the DiMenna Center.  Project 142's funding of our beautiful, acoustically excellent venue and Scot's help with publicity and logistics made all the difference to the success of this venture!"   www.project142.org
December 20, 2018 – Invited to & became a Board Member of Composers Concordance in NYC.
THANK YOU Gene Pritsker & Dan Cooper for their Board invitation!
Co Produced our 2nd concert together Jan. 31, 2019 – Project 142 & Composers Concordance.  NEXT – June 22, 2019
Sept. 2018 – "Hi Scot. Thanks so much for another great event. The audience responded with great enthusiasm and passion.  They loved the place, the music and the player.  It's an honor to be a part of your series and I hope we'll have an opportunity to work together again with other wonderful programs.  Ciao"
Davide Zannoni – Composer – www.davidezannoni.com  – reference to Sept. 6th Alessandro Vena's Project 142 Concert.
THANK YOU MIKE HORYCZUN for this article that appeared in the Norwalk Hour as an early Sunday Sept. 9, 2018 edition promoting our Sunday Brunch Series at BJ Ryan's Magnolia Room in Norwalk CT – Inaugural Sunday Brunch Sept. 9, 2018.
www.thehour.com      www.bjryansmagnoliaroom.com     www.ronjacksonmusic.com
THANK YOU MIKE HORYCZUN too for his Radio Interview on WPKN with RON JACKSON on Wed. Sept. 5, 2018 promoting the Sept. 9th BJ Ryan Brunch
July 2018 – "We walked in on the evening of our concert and was stunned by the beauty of the DiMenna Center.  The design is warm, inviting, reverberating with musicality.  The potential is palpable, so much can happen in this space.  To Scot Albertson and Project 142, wow, THANK YOU Scot for your dedication and diligence in every aspect of organizing and promoting our concert.  You are a joy to collaborate with and incredibly thorough.  Project 142 is a precious series that embodies the best in music.  Thank you for opening the door for us to perform as a duo and bringing us together with your audience.
Warmest wishes,
Eleanor and Frank"  June 28, 2018 Frank Ponzio & Eleanor Dubinsky Duo Project 142 Concert testimonial
Eleanor Dubinsky – www.eleanordubinsky.com   &   Frank Ponzio www.frankponzio.com   &   www.project142.org
April 18, 2018 – "It was pure joy! Thank You both (Flip Peters) for a lovely musical interlude.  Delightful meeting you & seriously, we must do it again."  Private Concert Scot Albertson & Flip Peters – President of CT Women's Club testimonial
February 24, 2018 – CONGRATULATIONS to ARTHUR MIGLIAZZA for a SOLD OUT Project 142 Concert in NYC!  www.arthurmigliazza.com
February 2018 – "SCOT – Many thanks for helping me out at Party Talent LLC while I was away.  I always knew you were a great singer, and now I count on you for singing telegrams dressed as crazy characters, run my bubble show and handle almost anything that comes my way.  You even pulled through with the last minute singing delivery at Stew Leonard's .  Robin thought you were a GREAT Olaf at the Wilton Carnival too.  I never had a person cover so many gigs for me in one week.  I really appreciate your help and professional attitude.  Many thanks!!!"
Paul Mordoff
Party Talent LLC – 203.846.2000
October 2017 – Oct. 19, 2017 Jim Ridl Project 142 Concert – DiMenna Center – NYC –
Thank You for Jim's support & CONGRATULATIONS on a stellar performance All About Jazz Review of Jim's Solo Piano Recital with Project 142 –
Review Link – www.allaboutjazz.com/php/article.php?id=561588     –    www.jimridl.com
Sept. 2017 Entry – from Nadja Cook  – mother of Jesse Cook – testimonial reference to Jesse's NYC Debut Project 142 Concert Aug. 26, 2017 –
"Scot you were awesome! What a guy!  Your heart, your organizational skill, your passion for Project 142 & the time & effort you put in the advancement of musicians is amazing!  Thank You so much for making Jesse Cook's debut concert a success with Rev. Dick Leonard."  www.project142.org
July 13, 2017 Entry – from Steve Sandberg – testimonial from Steve's CD Release Concert with Project 142 June 27, 2017 –
"Project 142 has been essential in the development of my new project, the Steve Sandberg Quartet.  In June 2016, Scot and Dick gave me an opportunity to test out a new idea (in a great venue, the DiMenna Center, featuring a world class piano) – presenting a concert, where in the first half, I played classical piano repertoire, and in the second half presented a quartet playing original world music, much of which was based on the classical pieces (featuring Zach Brock, Michael O'Brien & Mauricio Zottarelli)).  The concert got a rousing ovation, and I was inspired enough to spend much of the following year developing this idea.  In June of 2017, Project 142 again gave us an opportunity to play, this time in our CD release concert!  I can't praise Scot and Dick enough for their high quality of integrity, artist support, audience building and taste".  www.stevesandbergmusic.com    also www.project142.org
JUNE 22, 2017 Entry – from Christ Church Vestry – testimonial from their Fundraising Concert June 3, 2017 (self produced & performed)
"Dear Scot,
The Vestry of Christ Episcopal Church East Norwalk CT extends its heartfelt thanks and appreciation for the gift of your performance at "A Night of Music and Fun" at our church on June 3, 2017.  Your show, which included classics from the Great American Songbook as well as other favorites, new and old, delighted the audience.  Your stage presence was constantly engaging, recognizing birthdays and acknowledging many folks present.  Your talent and unique personality combined to create an unforgettable experience for all who attended.  In addition to your matchless musical talent, with Dr. Joe Utterback, you tirelessly promoted the event on our behalf in order to "wrap our arms around" the community.  You engaged local businesses to donate items for raffles and you entertained at the Marvin and Ludlow Commons creating a new interest in Christ Church.  As a result, both facilities have invited us to be a part of the residents' social and spiritual lives.  Additionally, you gave radio interviews and reached out to friends and business associates to spread the word about our event.  As a result, our event was a success not only financially, but, more importantly, created a great deal of momentum in East Norwalk, which we continue to nurture.  Thank you, from the bottom of our hearts, and we look forward to having you around a lot more.
Blessings, The Vestry of Christ Church East Norwalk"   –  www.christchurcheastnorwalk.org
JUNE 18, 2017 Private Concert Performance – testimonial from concert audience member:
"Thank you so much.  I really appreciate your sending the photos , your sincerest words and of course your performance! I was really glad to have shared in the joy your music and storylines brought to the residents.  It was great to see so many engaged and your repertoire surely suited their era.  Look forward to your being at the K. again soon.  Have a beautiful summer.  Oh and thanks for the birthday honoring and delicious cake too!  How great of you!"   Heidi V.
JUNE 2017 RADIO INTERVIEW with Host Milford Edwards Sr. on WNLK 1350AM – www.1350wnlk.com  for June 3, 2017 Christ Episcopal Church East Norwalk CT – www.christchurcheastnorwalk.org  self produced & performing Fundraising Concert (produced with Paul Mordoff of Christ Church).  Interview can be heard on Scot's homepage (large link – scrolling links).
MAY 29, 2016 – RADIO INTERVIEW – "JERSEY BOUNCE" SHOW with Host JOEL PERRY – weekly Sunday Radio Show – WFDU – 7:00a.m. – 10:00a.m. – www.wfdu.fm hd2 (click onto) – Interview can be heard on large link on Scot's homepage – Host: Joel Perry – www.joelperryguitar.com
The Best Jazz of 2013!
The results of the 35th Annual Jazz Station Poll conducted by jazz journalist, jazz historian & jazz educator Arnaldo DeSouteiro
URGE TO CROON picked in 2 catogories in Arnaldo DeSouteiro 35th Annual TOP 10 Jazz Station Listener Poll – Dec. 31, 2013:
• Top 10 Male Singers – "Scot Albertson"
• The Best 10 Vocal Jazz CDs – "Urge To Croon"
MONDAY, DECEMBER 30, 2013
The Best Jazz of 2013
Os melhores do jazz em 2013 – The Best Jazz of 2013!
The results of the 35th Annual Jazz Station Poll conducted by jazz journalist, jazz historian & jazz educator Arnaldo DeSouteiro.
Ahmad Jamal (pictured below), Steve Lindeman, Ron Carter, Toots Thielemans, Gene Bertoncini, Mark Egan, Steve Gadd, Randy Brecker, Michael Pedicin, Ronnie Cuber, Jane Ira Bloom, Jamie Baum, Molly Holm and the late (and already much missed) George Duke are among the top artists of the year.
Only albums recorded or released in 2013 were eligible.
2013 Male Singer
1º Mark Murphy ("A Beautiful Friendship: Remembering Shirley Horn" EP – Gearbox Records); 2º Ed Reed ("I'm A Shy Guy" – Blue Shorts); 3º Andy Bey ("The World According To Andy Bey" – HighNote); 4º Giacomo Gates ("Miles Tones" – Savant); 5º George Benson ("Inspiration" – Concord); 6º Gregory Porter ("Liquid Spirit" – Blue Note); 7º Scot Albertson ("Urge To Croon" – SA); 8º Michael Feinstein ("Change of Heart: The Songs of André Previn" – Telarc); 9º Michael Bublé ("To Be Loved" – 143)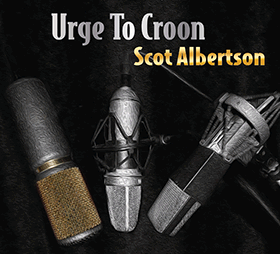 The Best Vocal Jazz CDs
Molly Holm: "Permission" (Rinny Zin Records)
Beata Pater: "Red" (B&B Records)
Ed Reed: "I'm A Shy Guy" (Blue Shorts)
Mark Murphy: "A Beautiful Friendship: Remembering Shirley Horn" (Gearbox)
Eugenie Jones: "Black Lace Blue Tears" (EJ)
Andy Bey: "The World According To Andy Bey" (HighNote)
New York Voices: "Live with the WDR Big Band" (Palmetto)
Giacomo Gates: "Miles Tones" (Savant)
Scot Albertson: "Urge To Croon" (SA)
Agachiko: "Yes!" (Accurate)
Link to full article click here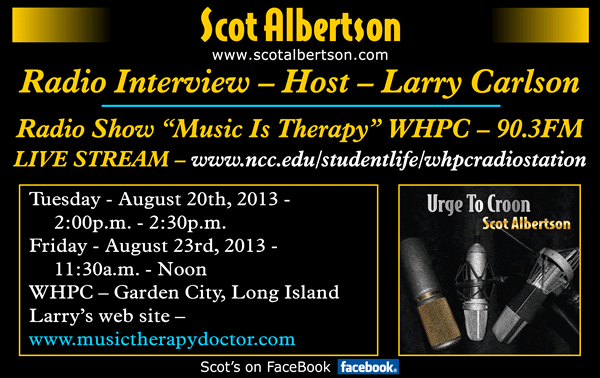 NEW CD
1.I've Got A Pocketful Of Dreams
2. Embraceable You
3. Bernie's Tune
4. My Foolish Heart / Night And Day (medley)
5. Nature Boy
6. Tenderly
7. All Or Nothing At All
8. I'll Always Be With You
9. Evil Ways
10. I'd Give A Dollar For A Dime
11. Nature Boy (Un poquito de Salsa)
Scot Albertson (Vocalist – Performer –
Producer – Recording Artist) – www.scotalbertson.com)
announces Scot's NEW 6th CD RELEASE CONCERT
Monday June 17, 2013 at 7:30p.m. which will take place in Symphony Space
Leonard Nimoy Thalia Theatre (2537 Broadway & West 95th Street, New York City, NY
10025 –www.symphonyspace.org and
Telephone Number 212.864.5400).
Title of this NEW 6th CD is: "Urge To
Croon".  There are 1:30 minute sample tracks of all eleven
songs on the NEW 6th CD via a click link on the NEW CD
cover on Scot's web site Homepage.
This will be a Two Set Concert with one intermission with two distinct
Bands.  FIRST SET – Scot (Vocals) & Sean Conly (Bass)
& David Silliman (Drums –www.davidsilliman.com)
& Matt Baker (Piano – www.mattbaker.com.au.
SECOND SET – Scot (Vocals) & Matt Baker (Piano) & David
Silliman (Percussion) & Ron Jackson (Guitar – www.ronjacksonmusic.com)
& Mayu Saeki (Flute – www.mayusaeki.com).
They will be performing music from Scot's NEW 6th CD
as well as music from Scot's previous five CDs.  All ticket
holders will receive a complimentary copy of the NEW 6th CD
as a way of saying "Thank You" for the support! The RECORDING
BAND for Scot's NEW 6th CD: Sean Conly, Ron
Jackson, Mayu Saeki, Matt Baker, Vince Cherico (Drums & Percussion),
Christos Rafalides (Vibes – www.manhattanvibes.com)
and Featured Guest Pianist / Composer George Small (on three
tracks).  The NEW 6th CD is self produced by Scot
and all of the arrangements as well are by Scot.  Stand out tracks:
"Bernie's Tune" (recorded Vibes, Bass, Drums &
Vocal), "I'll Always Be With You" (recorded Piano &
Vocal ONLY – George Small). "Tenderly" (recorded Vibes
& Vocal ONLY), "Evil Ways" (recorded Guitar, Flute,
Percussion & Vocal Only), "I'd Give A Dollar For A
Dime" (recorded Bass, Drums, Piano & Vocal), "I've
Got A Pocketful Of Dreams" (recorded Piano, Bass, Drums &
Vocal) and "All Or Nothing At All" (recorded Bass & Vocal
ONLY).
The adage "experience is the best teacher" applies here since
Scot's 5th CD "Vibination" was released
at the Kitano Jazz Club in New
York City June 17, 2010.  Since then,
Scot has religiously performed in NYC and Tri State area
venues each and every month mixing up the appearances with a bevy of
Musicians / Instrument combinations.  Scot has stepped into the
roles of Bandleader, Producer and Arranger.  The culmination of this
three year learning curve is the NEW 6th CD.  Scot
picked the Musicians that have been recorded on this NEW 6th CD
from those experiences / appearances and the songs recorded are music
that audiences enjoy / request while performing.
TICKETS – $20.00 – Advanced Purchase    $23.00 – Day
of Concert / At Door   $12.00 – Seniors & Students
& Symphony Space Members
Available for purchase via – www.symphonyspace.org AND
Telephone Number 212.864.5400.
This Concert will be especially celebratory as it will be Scot's 8th year
Anniversary to the date from his debut as a Performer on June 17, 2005.
Scot debuted into the New York City Music Community June 17, 2005 in
Danny's Skylight Grand Sea Palace on Restaurant Row with
a Quintet. Since then, Scot has released five self produced CDs and has
performed in many area venues including the legendary Danny's (Scot
performed the very last Show in Danny's December 30, 2006 with
Scot's 2nd CD Release), The Triad, The Metropolitan
Room, Iridium Jazz Club, Laurie Beechman Dinner Theatre (a three year run
of appearances monthly), Kitano Jazz Club, Baruch Performing Arts Center,
Barnes & Noble Lincoln Center Triangle Event Room, Midday Jazz in St.
Peter's Church, La Mediterranee French Bistro (Sunday Brunch 2008
– 2009 with Jerry Scott),
Live Green CT Annual Outdoor Weekend Event and Somethin' Jazz Club.
Currently, Scot appears monthly which commenced October 2010 at
Tomi Jazz Club in NYC (239 East 53rd Street between 2nd and
3rd Avenues – www.tomijazz.com)
presenting a variety of programs with many of Scot's contemporaries
who are very active / working in the New York City Music Community (
Keith Ingham, Daryl Kojak, Christos Rafalides, Dan Furman, Billy Test,
Lucy Galliher, Freddie Bryant, Sedric Choukroun, Nick Demopolous, Frank
Owens, Anthony Pinciotti, Cameron Brown, Boots Maleson, Tommy Morimoto,
Tom Hubbard, Dave Pietro and Arthur Lipner).  Scot also is currently
performing every Friday and Saturday Evenings 8:00p.m. – 11:00p.m. at
Parnell's Restaurant (350
East 53rd Street and 1st Avenue,
NYC – www.parnellsny.com)
in Jerry Scott's memory.
Each and every concert is a unique experience as no one concert /
performance is the same.  Scot consistently integrates new music
into his repertoire continually exploring and growing as a Producer /
Vocalist and sharing in this joyous path with his audience. Scot has a
multi genre approach to performing seamlessly weaving this broad range of
music into his concerts eliciting audience interest and participation and
sharing the spontaneity of new expression and composition.  Music
and Composers recorded / performed: Rodgers and Hammerstein, Jerome Kern,
Burton Lane, Eubie Blake, Sammy Cahn, Jule Styne, Johnny Burke, Andy
Razaf, Sunny Skylar, Frank Underwood, Stan Freeman, Mitchell Parish, Johnny
Mercer, Hoagy Carmichael, Lorenz Hart, Jerry Herman, Michel Legrand,
Johnny Mandel, Alan & Marilyn Bergman, George & Ira Gershwin, Dan
Fogelberg, Walter Donaldson, Sammy Fain, Irving Kahal, Walter Gross, Jack
Lawrence, Errol Garner, Edith Piaf, Cole Porter, Neil Sedaka, E. Y.
Harburg, Luigi Creatore, Gus Kahn, Frank Loesser, Paul Francis Webster,
Harold Arlen, Jim Messina, Kenny Loggins, Ned Washington, Victor Young,
Cy Coleman, David Zippel, Matt Dennis, Harold Adamson, Jimmy McHugh, Lee
Adams,  Henry Mancini, Arthur Schwartz, Harry Warren, Nicholas
Brodszky, Frank Wildhorn, Leslie Bricusse, Irving Berlin, James Van
Heusen, Leonard Bernstein, Andrew Lloyd Webber, Alan Bernstein, Ritchie
Adams, Jackie De Shannon, and Eden Ahbez.
Scot also Hosts and produces a Cablevision of Connecticut Interview Talk
Show titled "Carousel".  This Show was created by Joyce
Fischman and Jerry Laird. Scot joined the Show July 2012 and brought a
diverse eclectic group of Guests.  Scot also revamped the Show with
a new intro and closing including a new intro theme (music) generously
permitted use and composed by Guitarist Peter White (from Peter's
"Reveillez Vous" CD – title track – www.peterwhite.com).
Notable Guests on "Carousel" interviewed by Scot:
Bassist / Composer Mark Egan (two interviews – www.markegan.com),
Live Green CT Outdoor Weekend Event Co Founders Scot Weicker and Daphne
Dixon (www.livegreenct.com),
Pianist / Composer Frank Owens and Acting Coach / Co Writer of
"Lord Tom" Kimberly Vaughn (www.lordtommusical.com).
All Interviews are available via the "Carousel" YouTube
Channel.
A NEW SHOW – Scot will be releasing / airing in June 2013 a new
Interview Show he has created, produced and hosts.  The Show will be
titled: "In The Studio with Scot Albertson".  The first
/ debut Guest will be Bassist / Composer Mark Egan (www.markegan.com)
promoting a NEW CD with John Hart and Karl Latham titled "Unit
1".   Mark and Scot perform a song together (Bass and
Vocal only) within this Interview.  The Show will be aired on
Cablevision of Connecticut as well.
Come join Scot and his fellow Band Mates on June 17th at
Symphony Space at 7:30p.m. please for a joyous and enchanting Concert and
Evening.   As always with Scot's performances – it
will be fun and revel in the beauty and simplicity of music!

"Live Green Connecticut! loves Scot Albertson! For the 3rd straight year, Scot and Friends gave a stunning performance that was truly 'Music to the Ears'. Scot's rich and powerful voice emanated throughout Taylor Farm Park drawing attendees from every corner of the Park to the Main Stage. Scot's musical talent is simply limitless as he lit up the stage, thank you Scot!"
  — Scot Weicker & Daphne Dixon, Live Green CT Co-Founders
www.livegreenct.com   Sept, 2012

"Jazz Vocalist Scot Albertson and Friends delivered a stellar and solid concert performance at Baruch Performing Arts Center, filling the house with an attentive, appreciative and applauding audience. It was a special night of jazz music we'll never forget."
  — John Malatesta, Managing Director
Baruch Performing Arts Center   May, 2012
Rocking it out – yeah!!!
Ron on my Custom Fylde Acoustic and Scot rocking it out at Baruch PAC!!!
I am a jazz guitarist. I love jazz, I breath jazz, I live jazz. But sometimes I like to rock it out and revisit my teens when I wanted to be a rock star.
Last week I had a chance to do so, at a concert with amazing vocalist Scot Albertson in the beautiful, acoustically perfect theater at Baruch PAC in NYC. It was a great cross between Broadway and jazz with Grammy nominated pianist Keith Ingham for the 1st half. In the second 2nd half they were joined by me on guitars and Sedric Choukroun on woodwinds. And it started pretty classic with tunes like when "Love Walked In" and "The Shadow Of Your Smile", where Scott once again proved his great voice and vocal technique. But then it took off and the pop rock hits "Your Mama Don't Dance" and "Breakin' Up Is Hard To Do" made the whole hall electric. Scot was singing like he was Mick Jagger, Sedric played Clarence Clemons, Keith like Jerry Lee Lewis and I was dancing and rocking it out on my acoustic guitar like Jimi Hendrix. The audience was with us all the way, and the cheering just wouldn't stop after the final, "Put A Little Love In Your Heart".
Thanks for a great night guys. Maybe I still want to be a rock star.
Here I am digging in on my Eastman 7 String!!
  —
Ron Jackson – Ron Jackson Music   May, 2012
Meeting and Performing with Vocalist Scot Albertson
I've been playing with saxophonist 
Sedric Choukroun
 at French restaurant 
Brasserie Julien 
for about 12 years. He uses different guitar players over the ongoing Thursday-Saturday duo gig.  I've met many musicians there, complete strangers or friends of Sedric. Many want to sit in with us.  One of the most memorable people is vocalist
Scot Albertson
.
Scot used to come hang and have dinner or drink. He's is the nicest guy you could ever meet. His friends are really cool too. One of those times Scot sat in and sang a couple of tunes with us. I asked Scot that if needed a mic, I would need to go get it out of my car.
He said,"No, I don't need one". Well he sure didn't. I remember clearly Scot singing, "Tenderly". You could hear all the in back of the restaurant!  Scot has incredible vocal chops! He says his vocal sound and style is influenced mainly by instrumentalists. He can switch seamlessly between Jazz, Broadway, and Pop. Anyway we really hit it off musically.One of my first gigs on the 7 String guitar was with Scot when I started back playing it in back in December. He asked me and Sedric to play with him at 
Tomi Jazz
  in January where he has a monthly residency. He really dug the sound. It's like having a bass and guitar at the same time or you can say 2 for the price of 1. Just kidding 
  Anyway Tomi Jazz is a great Midtown jazz hang. It's really feels like being in Japan. Scot has legion of fans who attend and love jazz. Scot graciously invites people to sit in on this gig. It's a really fun hang!I was honored when Scot invited me a couple of months ago to play in his debut concert hall performance at
Baruch Performing Arts Center
 this coming May 11, 7:30pm. I am looking forward to it!The 1st half will be Scot in a duo with pianist 
Keith Ingham
, then the second half in quartet with me and Sedric Choukroun on woodwinds.It should be a wonderful concert!!!
Scot with pianist Keith Ingham at Tomi Jazz
  —
Ron Jackson – Ron Jackson Music   May, 2012
Vocalist Scot Albertson at Tomi Jazz Tonight
…and on Tuesday February 7, and February 28 PLUS A Note From Scot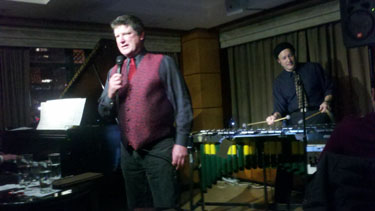 Vocalist Scot Albertson appears at Tomi Jazz tonight, Tuesday January 24, in a duo performance – Scot Albertson & Keith Ingham Duo (Piano / Vocal Duo Evening). This is the first of three performances by Scot at Tomi Jazz through February – with upcoming performances on February 7 and February 28. Tomi Jazz, 239 East 53rd Street (between 2nd and 3rd Avenues), NYC, 10022. www.tomijazz.com 646-497-1254. Dates: $10.00 Cover & $10.00 Food & Drink Minimum please.
Photo shows Scot Albertson and Arthur Lipner
A note from Scot Albertson
Tomi Jazz celebrated their One Year Anniversary November 2011. I've been there now 15 months monthly along with other artists & musicians who perform there regularly. It was originally a private Club with Owners Ken & Mutsuki opening it up to a public venue providing Jazz 6 (six) days a week (not on Sundays at this point in time). I'm performing there twice a month sculpting the performances with different musicians each time to develop growth and an opportunity for a venue for other musicians to promote and share their music. We simply come together to have fun and make music. Guests are always welcome to sit in when we're performing. The relationship between Ken & Mutsuki and myself is based on trust & mutual respect which is refreshing in these trying times. Guest Artists / Musicians have been: Arthur Lipner – Vibes, Sedric Choukroun – Sax & Flute, Mayu Saeki – Flute, Nick Demopolous – Guitar, Freddie Bryant – Guitar, Daryl Kojak – Pianist, Dr. Joe Utterback – Pianist, Keith Ingham – Pianist & Kyoko Oyobe – Pianist.
February: Tues. Feb. 7th – Scot Albertson Trio featuring: Keith Ingham (Pianist) & Carol Sudhalter (Sax & Flute – www.sudhalter.com) &
Feb. 28th Tues. – Scot Albertson & David Pearl Duo – Piano / Vocal Duo Evening.
All dates are 9:00 PM thru 11:30 PM time slots which usually go beyond 11:30 PM. Although the time slot is structured as 2 sets in that time frame indicating a break between sets, I don't break meaning once we start, we go until we finish @ 11:30 PM or later accommodating all who attend to sit in with us.
UPCOMING: Baruch Performing Arts Center – Friday May 11th @ 7:30p.m.
The 15 month run In Tomi Jazz started after a 3 year run of multiple performances in the Laurie Beechman Dinner Theatre (West 42nd St. & 9th Avenue – NYC) & multiple performances in The Kitano after Scot's debut there June 17, 2009.
Scot's most recent CD Vibination – his fifth – was publicly released on June 17, 2010. Scot's NEW CD will be recorded later in 2012. All five CDs are self produced.
January 24, 2012
Since December 2005, Scot Albertson has been presenting his annual pre-New Year's celebrations, initially at Danny's Skylight, then for many years at the Laurie Beechman, and last year and this year at The Kitano, the beautiful jazz lounge on the second floor of the Kitano Hotel on Park Avenue at 38th Street. I have attended every one of his celebrations except for last year and I've seen Albertson develop from a tight, scripted, nervous performer to a relaxed, swinging singer totally at ease at interplay with his audience members. I have seen the progress of the use of his great vocal instrument so that the big loud sustained high notes are now judiciously selected for the strongest impact. When Albertson sings softly, his diction and his phrasing is so clear he frequently doesn't need a microphone. Many of the selections this night were performed with the microphone in a lower position instead of closer to his mouth.
The 2011 first show at 8 p.m. was entitled "Vibination," the title of his last CD. Riding on his jazz chops, Albertson did an unrehearsed song list allowing Daryl Kojak, his long time musical director, to do his magical improvisations on every vocal break, and the great Arthur Lipner on the vibraphone, wielding two mallets in each hand and hardly ever looking at his instrument as he accompanied Albertson, doing solos on the breaks. Albertson' s theme for this New Year's Eve was "hope" and all the selections were chosen to communicate hope for 2012 for all of us.
Albertson began his set with a swinging "You Gotta Taste All the Fruit," the Sammy Fain-Marilyn & Alan Bergman song cut from Something More and it was great to hear those lyrics spit out and listen to Kojak and Lipner's improvs. Riding directly into the New Year Holiday, the next number was a sweet "What Are You Doing New Year's Eve." Albertson did a very soft version of "Tenderly," every word perfectly audible without the mic. He did another Loesser, this one written with Burton Lane, "I Hear Music," one of his signature songs, and the men on the piano and vibraphone rocked on their improvisations as did Albertson in another burst of joy!
A special new up tempo was "I'd Give A Dollar For A Dime," a forgotten Eubie Blake-Andy Ratzaf number, on which Albertson roused the room. However, the greatest moment of the evening, was Albertson's pairing of the verse of Noel Coward's "Sail Away" with Rodgers & Hammerstein's "No Other Love," the theme from the TV show "Victory at Sea" and sung in Me and Juliet. Most of this sumptuous melody was sung without amplification – – softly, as gentle waves to great emotional effect.
Albertson passed out hats and funny horns to every one in the audience for his version of "Auld Lang Syne" and the audience willingly sang along with him. He gave out those delicious cakes from the special bakery in his home town of Norwalk, Connecticut to three of the audience members, including the great percussionist Sedric Choukroun (who sat in on one number in this set) and we all sang "Happy Birthday" to them. He paid tribute to lyricist performer Franklin Roosevelt Underwood by romantically crooning the song Underwood wrote with Stan Freeman, "Be Warm This Winter," a message we all wanted to hear.
Albertson paid tribute to his uncle who had attended every one of his New Year's Eve celebrations and who died this year. His closing message to everyone was "Put A Little Love In Your Heart," the great Johnny Holiday, Randy Myers and Jackie De Shannon song. The entire room stood up and he could easily have sung all night but he had a second show coming up with different musicians.
Albertson's next engagements are January 10 and January 24 at Tomi Jazz, 239 East 53 Street (between 2nd and 3rd Avenue) call (646) 497-1254 for reservations. For information on "Vibination" and Albertson's other CDs, www.ScotAlbertson.com
  —
Joe Regan Jr. via Sandi Durell – Times Square Chronicles   January, 2012
Once upon a time we had "Swing Street," which generally referred to a collection of jazz clubs, primarily on West 52nd Street. These days such clubs are scattered throughout New York City, generally on the far East Side. NYSMS member Scot Albertson is much too young to have participated in the so-called Golden Age, although he's been coming to jazz venues for years, wherever the clubs happen to be located.
Sometime around the year 2000, Scot decided to switch to the performing side, and he's been a very busy singer ever since. On a recent Monday night at "Tomi Jazz", a basement Japanese club on East 53rd Street, Scot presented an eclectic program of standards, most songs staples of the American Songbook, others seldom heard. "Dr. Joe" Utterback, his musical director for the past few years, says that Scot is a "great exponent of the Great American Songbook" and adept at "finding good tunes, some obscure."
Tomi's performance space is small. There is no stage and Scot is just inches from the first row, essentially ten chairs set around an L- shaped table. Dr. Joe has his back to Scot and the audience, out of physical necessity. Such a claustrophobic arrangement would be anxiety-provoking for most vocalists, but for Scot it fits perfectly with his style.
Unlike other professional singers who fix their gaze at the middle distance, partly because they can't see beyond the front due to the stage lighting, Scot prefers to make eye contact with his audience. Jerry Laird, who's known Scot for several years, says "He's totally aware of others at all times. Everything about him is sharing." There's an obvious joie de vivre about Scot Albertson, and it's contagious. Jerry adds: "He elevates your spirit. I always feel better when I'm around him."
Except for six years in a boy's choir based in his hometown of Norwalk, Connecticut, a career in music appeared to be unlikely. After graduating from college, Scot became a police officer for the City of Norwalk, served as a U.S. Border Patrol Agent in Arizona and ran a successful limousine business for close to twenty years. He is currently a member of the Open Ocean/Shark Tank Dive Team.
About ten years ago, Scot suddenly came back to singing, taking lessons with Richard Lissemore for over four years. Simultaneously, he sang at open mic nights around NYC, beginning with Trudy Mann's. Finding it to be a comfortable and nurturing environment, he was encouraged to keep on, feeling that he was meant to be performing at that stage of his life. Scot also credits pianist Jerry Scott for his support and for making him aware of songs he never knew.
As his confidence grew, Scot decided to record his first CD (Got a Date With Fate) with world renowned bassist Mark Egan, drummer Danny Gottlieb and composer and pianist Jon Werking. He released the recording in 2005 while making his debut at "Danny's Skylight Cabaret Room," eventually performing the very last show in that legendary club in 2006.
Over the past five years, Scot has recorded four other CD's, including Fate Revealed By Design, Vibination, With Every Note a Step, and Fate Just Won't Wait. When asked about his career goal he answers that he doesn't honestly know. He feels that singing is what he's meant to do for now and he's not concerned about how long it may continue. Scot believes that the most important things in life are "Love, faith, trust and an open heart," and he clearly walks the walk. Bill Donaldson of "Jazz Improv Magazine" says "…fate has been kind to Scot Albertson by fulfilling his aspirations and he's given much appreciation for fate's beneficence in return."
Other reviewers have made reference to "…his mission to discover songs from way before his time…that deserve to be heard today;" his "strong romantic baritone;" "…a rangy tenor that can stretch with pleasing depth, soar into the heights, and hold the notes easily;" and "…he understands what the songwriters wanted to say and conveys that to the listener." Scot has plenty of spirit, energy and enthusiasm. His voice is rich, full and resonant. He has a healthy respect for his musicians and frequently partners with Dr. Joe and Daryl Kojak, both of whom get to play innovative solos.
Jerry Laird says that music has a tangible connection to Scot, who is grateful for the opportunities he's been given, beginning with his foreign travel experience as a member of the boy choir. Scot truly believes that every note he sings is a step toward what he will eventually do, and he's content to let the singing take him wherever it may.
  — Jerry Osterberg – New York Sheet Music Society   June, 2011
Jan. 30, 2011 Radio Airplay Showcase.
The Best Jazz of 2010!
The results of the 32nd Annual Jazz Station Poll conducted by jazz journalist, jazz historian & jazz educator Arnaldo DeSouteiro
VIBINATION picked in 3 catogories in Arnaldo DeSouteiro 32nd Annual TOP 10 Jazz Station Listener Poll – Dec. 30, 2010:
• Top 10 Male Singers – "Scot Albertson"
• The Best 10 Vocal Jazz CDs – "Vibination"
• Top 10 Vibe Performances – Arthur Lipner on "Vibination" w/ Scot Albertson
The Gary Alexander Show on www.KLOI.org Lopez Island, Washington 102.9 FM – Every Monday & Friday 3:00p.m. thru 5:30p.m. Pacific Coast Time – Gary showcased Scot's Birthday & Music Nov. 19 & Nov. 22, 2010 – 25 Minute Sets each Show / Date.
• Nov. 19th, 2010 – Gary played 5 songs from CD # 2 & closed with opening track from CD # 5
• Nov. 22nd, 2010 – Gary played 5 tracks from CD # 5 & closed with "It's All Right With Me" from CD # 2.
Scot Albertson has a voice built for Andrew Lloyd Webber; the sort of big, theatrical timbre that, like Michael Crawford, Juan Chioran, Alan Campbell or Mandy Patinkin, seems ideally suited to scouring a phantom's lair or leading an Argentine revolution. But there's also an old-school formality about Albertson that harkens back to a specific sect of '50s male vocalists — Gordon McRae, Al Martino, Don Cherry, Matt Monro (who carried the tradition well in the '60s) and other lesser lights; singers with plenty of power and personality, but lacking the easy, intimate familiarity of a Sinatra or Bennett. Of course, McRae and those other fellas sold boatloads of records, just as the stars of Webber's musicals helped sell mountains of tickets, so it's obviously a style that resonates strongly with a broad audience.
Though Albertson bills himself as a jazz singer, I'd argue he's more a cabaret artist, with a trunkful of tunes and the gumption to do whatever is required to satisfy an audience. There's no question that he can sell a song. Like McRae, Monro and their brethren, he can ably handle peppy numbers but is not a natural swinger. Far superior are his ballads, delivered with sincere authority.
In an earlier review, I noted that Albertson favors wide-ranging playlists, offering up a something-for-everyone potpourri. The trend continues on his latest CD, Vibination. The title is a word that doesn't exist in Webster's or anywhere else, but which Albertson defines as: "the experience of simultaneously merging life energies to create and joyously become one." In other words, the experience of performing with a first-rate band, which Albertson has, including pianist/music director/co-arranger Daryl Kojak, bassist Cameron Brown, percussionist and drummer Anthony Pinciotti and multi-instrumentalists Sue Terry and Dave Pietro, plus guest vibraphonists Dave Samuels and Arthur Lipner. Whatever verve and spontaneity Albertson may be missing, these fine players more than make up for.
The eclectic playlist begins with a robust, if slightly leaden, "Put On A Happy Face." Far superior is the second track, a lovely reading of Sammy Cahn and Jimmy Van Heusen's "Incurably Romantic." Later in the album, an unlikely combination of "Three Coins In the Fountain" and "I Have Dreamed" proves as effective. With the exception of Francis Lai and Carl Sigman's sappily maudlin movie theme "Love Story," the rest of the selections reflect one of Albertson's greatest strengths: to unearth seldom-heard gems from top-drawer songwriters. Johnny Mercer's gossamer "Dream Awhile" is handled with appropriately delicate grace, as are Stan Freeman's "Be Warmer This Winter" and Matt Dennis' charming "It Wasn't the Stars That Thrilled Me." Equally moving are two Johnny Mandel and Alan and Marilyn Bergman rarities, the gently swirling "A Waltz from Somewhere" and the sultry "Solitary Moon," here cooked over a light samba beat.
Leo Robin and Richard Whiting's clever "I Can't Escape From You" is precisely the sort of tune that Sinatra and Nelson Riddle (or Billy May) could have made soar. Pity they never recorded it. In Albertson's hands, it is decidedly bouncy, yet doesn't have that devil-may-care Sinatra sass. But Albertson does bring estimable sizzle to one upbeat number. It is Walter Donaldson's "At the Club Savoy," and in true cabaret style he serves it up with Bobby Short pizzazz.
  —
Christopher Loudon – Jazz Times   September, 2010

The highly talented vocalist, Scot Albertson, releases another superb CD, "Vibination." Albertson and his vocal prowess prove to be magnetic as he gracefully sings with stylish expression throughout this entire album. The astounding vocal intensity on, "Incurably Romantic," is overflowing with heartfelt emotions as Albertson easily sings this song with sheer elegance. Another song, "Miss Manhattan Won't You Marry Me," is extremely soulful as it is set to an enticing blend of Bluesy piano and soft drums. Also included on this album are some great classic standards, "Put On A Happy Face," "Love Story," and "Three Coins In The Fountain/I Have Dreamed (a medley)." You will appreciate the eloquent voice of Albertson as he adds his own shimmering panache to these irresistible songs. Discover the musical talents of Scot Albertson as he will croon his way into your heart with his latest album, "Vibination."
  —
Diane and the RadioIndy.com Reviewer Team – RadioIndy   August, 2010
• July 2010 – Vocal CD of the Month – "Scot Albertson: Vibination"
Broadway meets jazz on Scot's singing on "Vibination", his fifth CD within a six year span. More than a great singer, he is a great song stylist.
According to Scot, "Vibination is the experience of simultaneously merging life energies to create and joyusly become one."
Highlights: "Put On A Happy Face," "Incurably Romantic," "Dream Awhile," "Be Warmer This Winter," the medley of "I Have Dreamed" and the Oscar-winning song "Three Coins In The Fountain," plus two lovely tunes penned by Johnny Mandel with lyrics by Alan & Marilyn Bergman: "Solitary Moon" and "A Waltz From Somewhere."
Recorded at (Tony) Bennett Studios in Englewood Cliffs, New Jersey, featuring Daryl Kojak (piano & musical director), Cameron Brown (acoustic bass), Anthony Pinciotti (drums & percussion), "Sweet" Sue Terry (alto sax, flute & clarinet), Dave Pietro (alto & tenor saxes, clarinet, flute), Dave Samuels (vibes) and Arthur Lipner (vibes, who performs the best instrumental solo on the album on "It Wasn't The Stars That Thrilled Me," evoking memories of the late Milt Jackson.)
Deluxe 8-panel digipak cover.
  — Arnaldo Desouteiro, Founder of JSR (Jazz Station Records)   July, 2010
Grateful Appreciation to
Arnaldo Desouteiro, Founder of JSR (Jazz Station Records)
• March 2010 – Vocal CD of the Month – "Scot Albertson: With Every Note, A Step…"
• March 5, 2010 – CD of the Day – "Scot Albertson: Fate Revealed by Design"

Scot Albertson's latest CD, "With Every Note, A Step…," finds the crooner hitting his stride with a smart and well-conceived collection of tunes that blend influences ranging from lounge to theater. Opening his 15–song album with a fine medley incorporating Hammerstein and Kern's "The Song Is You" with "As Long As I'm Singing," while closing with an invigorating, jazz-informed performance of Dan Fogelberg's "Part of the Plan," Albertson oozes confidence and the delight of performing.
With a jazzman's knack for the gentle art of swing, covers of Spike Jones' hit, "Pass the Biscuits, Mirandy," Frank Loesser's "I Hear Music," and Eubie Blake's "Memories Of You," sound as joyous – and relevant, as they were decades ago. For fans of the great American songbook, and the type of singing that's meant to stir the soul, Scot Albertson's "With Every Note, A Step…" CD continues a musical journey that's part easy listening and part jazz, but completely terrific.
  —
Rice B. and the RadioIndy Reviewer Team – RadioIndy   January, 2010

Another album from Scot Albertson is "Fate Revealed By Design" and it is a wonderful collection of serene and pleasant Jazz songs that pivot around Albertson's wonderfully crooning vocals. "A Man Alone" is a song in which we hear the heartfelt story of a lonely man in which Albertson is accompanied solely by a sweet and charming piano. "You Gotta Taste All the Fruit" is a toe-tapping song in which Albertson sings in almost a Broadway style over playful brass highlights. "It All Depends On You" is a calm, yet upbeat song in which brass, piano, and drums combine for a smooth and silky classic jazz piece.
This album is perfect for those who enjoy talented crooners and the art of jazz music. Pick up a copy of "Fate Revealed By Design" today especially if you like refreshing Jazz music featuring strong male vocals.
  —
Sean B. and the RadioIndy Reviewer Team – RadioIndy   January, 2010
It's tough not to admire the pluck of the indie-jazz vocalist. He or she has chosen one of the thorniest of musical paths and is out there all alone, handling everything from bookings and album production to promotion and CD sales. Take Scot Albertson, now four albums into a slowly developing career and slugging as hard as one man can. Trouble is, as is often the case with indie projects, Albertson tries to paint on too broad a canvas. It's as if, in assembling the 15 tunes for With Every Note, a Step, he's determined to demonstrate everything he can do. The result is a sort of jazz/cabaret version of a Whitman sampler, with a few creamy ballads, a couple of darker numbers to chew on, a bit of whipped froth and even the occasional nutty addition.
So we're subject to such discordant pairings as Spike Jones' silly "Pass the Biscuits, Mirandy" against Andrew Lloyd Webber's grandiose "Music of the Night," and the folk prayer "Hymn of the Highlands" beside a jaunty "Save the Bones for Henry Jones." Albertson has a voice built for Broadway and the dexterity to go with it. Indeed, it seems a voice ideally shaped for the Rodgers & Hammerstein songbook (represented here only once, with a sweetly rendered "No Other Love"). If, on his next outing, he opted for such a narrower focus, it could result in a big step forward.
  —
Christopher Loudon – Jazz Times   Decenber, 2009

They don't come much more earnest than singer Scot Albertson. I imagine that if you attended a wedding where this irony-allergic balladeer entertained with his robust or dewy-eyed proclamations of believing in perfect, undying love, you might be tempted to tap the clergyperson on the shoulder and book the hall. A gay wedding could be in the cards with the noble "I Believe in This Man" (Karen Jacobsen). Where some smell corn, unflinchingly sincere Albertson only finds the sweetly perfumed air of romance and he breathes it in and breathes it out for ready, steady, heady high notes. Duly noted. For him, love is always in bloom like the "Orchids in the Moonlight" of which he sings. Like the Peanuts characters awaiting the non-existent Great Pumpkin, he'll stay in that moonlight for days, or at least in a moonlight mood, until those orchids bloom ("still my love can never die!" he affirms). The poetically formal language of Rodgers & Hammerstein's "No Other Love" fits him like a tailor-made suit rather than an antique hand-me-down awkwardly worn. Nods to more modern times include a bit of later pop-jazz or updating a line in "I Hear Music" to become "you, my angel, texting me."
We can sense his joy when he approaches the light and bright tempi and gamely dips his toes in—or wants to tap them—and with fifteen tracks, some levity is in order. Some attempts work better than others; a quaint relic like "Pass the Biscuits, Mirandy" is a fun, if dopey, respite. Nevertheless, he seems most effective and at home in the rush of the lush, mush and flush of falling in everlasting love. Pianist Daryl Kojak, his collaborator on arrangements and production, returns for this fourth CD, sometimes nudging the proceedings into jazzland with musical cohorts, which can make for some strange bedfellowship. Cabaret piano bar favorite Jerry Scott takes the keyboard on three tracks for some simpatico like-mindedness.
  —
Rob Lester – Cabaret Scenes   May, 2009


Ever-ardent Scot Albertson is MAC-nominated as a jazz singer, although to me he seems very much the more straightforward old-fashioned crooner or band singer. He has consistently worked with the adept jazz-leaning pianist/arranger Daryl Kojak (also nominated for a MAC for his collaborations with various singers). He can be oh-so-serious in his love songs, sincere to a fault. In looking at the potential for romance, his cup is always half-full—of rose petals. A deep-voiced singer, he also employs light head tones. His repertoire on this fourth album is mixed, with jaunty pick-me-ups like "Save the Bones for Henry Jones" to give us a break from the florid or torrid renditions. I could have done without yet another version of Phantom of the Opera's "Music of the Night" … by anyone. But there are some gallant and grand flourishes here. Scot is a fan of the medley, and gets in a very full program of music that way. He sounds more comfortable with some songs and styles than others, gamely driving down jazzy upbeat avenues, but I think Scot is a lot more at home on the street of dreams—a romantic thoroughfare washed with tears occasionally but lined with long-lived love songs.
  —
Rob Lester – Talkin' Broadway   May, 2009

[reviewing With Every Note, A Step…]…

Scot Albertson has led a most interesting life; not the typical story of a jazz musician. His first introduction to performing was singing in a boy's choir known as "The Little Singers" in Norwalk, Connecticut, as a child. Albertson then switched gears and worked for years as a police officer and United States Border Patrol Agent. Fast forward several years and Albertson has decided to give music another go. In 2005, his debut Got a Date with Fate was released. Since that time Albertson has released three more albums and become a fixture on the New York Cabaret scene. Albertson's music, as represented on his latest release With Every Note, A Step…, blends the Broadway tradition with jazz and is like nothing else currently on the market.
Much of the material on this disc is drawn from the American pop song tradition and bears the unmistakable stamp of Broadway styled music, including several piano/vocal duets. The disc begins with a medley of "The Song is You" and "As Long as I'm Singing". The first is rendered as a vocal/piano duet while the latter is a whimsical tune that incorporates jazz instrumentation and style. "I Believe in This Man" is a pop-ballad which deals with Albertson's faith, which is clearly a motivating factor (read his liner notes or check out scotalbertson.com for Scot's take on this). "Love is Waiting/On a Clear Day" blends a Latin jazz samba-esque vibe with a jazz waltz. "Memories of You" is a piano/vocal duet in the Cabaret style. "Save the Bones for Henry Jones" is a medium swing number which features piano and saxophone solos. "Hymn of the Highlands" features vocals, piano and strings. "Pass the Biscuits, Mirandy" is perhaps the most Broadway-influenced tune on the disc. It goes back and forth between a rubato piano/ vocal duet and a Broadway styled "two feel".
The mood becomes more refined with "Music of the Night", a piano/vocal duet and "How Blue the Night", set in a light bossa-esque style. The piano-vocal- strings format is again employed for the medley of "His Eyes, Her Eyes" and "When I Look in Your Eyes." "I Hear Music" is a medium swing number which serves as a feature for bassist Cameron Brown and drummer Tony Jefferson. Two more piano/vocal duets are included: "Sail Away/No Other Love" and "One Night of Love." "Orchids in the Moonlight" is Latin-flavored while the disc closer, "Part of the Plan" is a country-inflected pop tune.
I started this review by saying that Scot Albertson's life has not been "typical" (if there can be such a thing). The music on With Every Note, A Step… is also anything but typical. Just as Albertson's life has included both music making and law enforcement, the music he makes blends the worlds of Broadway show tunes and jazz. Bolstered by a stellar cast of New York jazz artists including saxophonists Sue Terry, Dave Pietro and the able accompaniment of bassist Cameron brown and drummer Tony Jefferson, the disparate elements influencing Albertson create a unique identity for both the man and his music.
  — Dave Miele – Jazz Improv Magazine   April 2009

La Vie a La Mediterranee Restaurant
Ernesto Morel, the perspicacious and charming host/owner of La Mediterranee Restaurant (947 Second Avenue between East 50 and 51 Streets) has wisely upped business in this very pleasant French bistro by adding more live music. For over twenty years, he has had the accomplished piano soloist Harold Don (who at one time was accompanist to Edith Piaf) play dinner music nightly until 10 PM. Mid-summer of last year, Ernesto added the songs and piano of popular Chris Barrett in a later time slot (10 PM-1 AM), proving that New York City can still be a late-evening town if there is an attraction to bring people in. Chris is now back home in Florida, performing weekends at the Magnum Lounge in North Miami, but he promises to return to New York and "La Med" in the late spring.
Ernesto has meanwhile brought in other talented musicians: "Dr. Joe" Utterbach, Lenny Dell, Steve Bocchino and Charlie Sleeth, to play for the stay-up-late crowd, keeping them warm, well-fed and entertained on these cold winter nights.
In December Ernesto created a musical Sunday afternoon from 1 PM to 4 PM, featuring a most inviting a la carte Sunday brunch menu, plus stand-up singer Scot Albertson and singer/pianist/ seven-time MAC Award winner Jerry Scott and lots of drop-in singers for Scot to introduce and bring up to the microphone and for Jerry to accompany. You never know just whom you'll hear. It's a mixed bag. Frequently you'll be lucky and East 50s neighborhood favorite Helen Klass will put in an appearance and share her talent. Another regular is funnyman Richard Cramer who is always good for a couple of hilarious songs.
Scot Albertson recently released his fourth CD, "With Every Note, A Step…", with Daryl Kojak and a great group of musicians, plus Jerry as guest pianist on three tracks. With his mellifluous voice and range for days, Albertson is a great interpreter of the American popular song. It seems to be his mission to discover songs from way before his time, beautiful ballads from the 30s and 40s that deserve to be heard today. Often he arranges songs in medleys— for instance, Noel coward's "Sail Away' with "No Other Love" by Rodgers and Hammerstein. Scot and Jerry and their audiences have fun with forgotten comedic songs of the earlier decades, groaners like "Pass the Biscuits, Mirandy" or "Save the Bones for Henry Jones." They also find and excel at good songs by today's writers. Last Sunday, they warmed my heart with a great take on Franklin Underwood's ballad, "Be Warmer This Winter." The Sunday brunch sets have become so successful that Ernesto has now booked Albertson and Scott to also do the Wednesday late evening gig.
I suggest you plan to check out this venue by popping in any evening for the late entertainment or reserve earlier for dinner and stay on. Brunch reservations are a must. Between the beautifully prepared and served gustatory menu, a well-chosen wine list and the eclectic music menu, you are sure to be pleased and will want to come back. And as for drinks at the well-stocked bar, you can enjoy favorite bartender/singer Todd Martin, known by one and all as "Hot Toddy."
La Mediterranee is at 947 Second Avenue between East 51 and East 52 Streets; the phone number is 212-755-4155.
  —
Jan Wallman – www.CabaretExchange.com   January, 2009
As part of his monthly performances at the Laurie Beechman Theatre, Scot Albertson celebrated the release of With Every Note, A Step…, his fourth CD in five years, at his annual pre-New Year's show on December 30th. Albertson always gathers top jazz musicians for his acts and this evening featured his music director, Daryl Kojak, on piano, Cameron Brown on bass, "Sweet" Sue Terry on alto sax and flute, Tony Jefferson on drums, and Dave Pietro on alto and tenor saxes and flute. Most of the songs in the act are featured in the new CD.
Albertson, who has a strong romantic baritone, erupted on stage with a briskly bouncy "Love Is Waiting" (Al Jarreau-Tom Canning & Jay Graydon) which led into a melodic "On a Clear Day" (Lerner-B. Lane). Without a narrative break, Albertson, with only Kojak's piano accompaniment, sang only the bridge to "The Song Is You" (Kern-Hammerstein II) before bursting into Bobby Darin's "As Long As I'm Singing" with the big jazz band sound. Both of these selections are on the new CD. Albertson then stated what he believes are the most important things in life: "Love, faith, trust and an open heart."
Albertson projected his romantic leading man image when he crooned a song not on the new CD, "I'm Incurably Romantic" (Cahn-Van Heusen) from the film Let's Make Love. It was followed by "I Hear Music" (Loesser-Burton Lane).
The evening was Albertson's sixteenth monthly performance at the Laurie Beechman. Discussing the new cook at Laurie Beechman, he honored her with the country western novelty, "Pass The Biscuits, Mirandy" (Del Porter & Carl Hoefle) with fun flute support from both Terry and Pietro.
An unusual medley in Albertson's act was the verse to Noel Coward's "Sail Away," sung a capella, then seamlessly flowing into a delicate "No Other Love" from Me and Juliet (Rodgers & Hammerstein) on which he moderated his voice for a gentler more tender meaning of the lyrics of this beautiful song. It is in the performance of ballads like this that Albertson reminds one of Vaughn Monroe and Dick Haymes. The full band did a great swing arrangement of "Orchids In the Moonlight" (Youmans-Gus Kahn & Edward Eliscu) before Albertson came in strongly on his vocal part and tore the roof off the room.
A new song was the inspirational "I Believe In This Man" by Karen Jacobsen which includes the line "joy is replacing my fear" and:
"I believe in this man
I believe in this love
In the beauty of his spirit
And the strength of his word
I believe in this chance
And I'm willing to take it as far as we can
I believe in this man…"
Albertson crooned this song against Kojak's superbly simple arrangement and the last line of the song was effectively whispered.
Bringing up Jerry Scott as his special guest, Albertson introduced a "gift" that Scott had given him. It was "Memories of You" (Eubie Blake-Andy Razaf) and Albertson sang it with the rarely sung verse. Scott flawlessly played the familiar melody as if it were a great classical piece, especially during the vocal break, and the harmonic interplay between them made for a thrilling presentation.
As a change of pace, Albertson went back to the country western songbook and rocked with the band on the old chestnut "Put Your Shoes on Lucy" (Hank Fort). Celebrating the New Year, Albertson led the crowd in "Auld Lang Syne" as the audience put on hats and blew their paper horns. This was followed by a beautiful "I'll Be Seeing You" (Fain-Kahal) which began with only Kojak's piano, soon joined by Terry and Pietro's flutes, and subtle rhythm support by Brown on bass and Jefferson on drums. Albertson then sent out his advice for the New Year with "Part of the Plan", a buoyant song by Daniel Fogelberg:
"Love when you can,
Cry when you have to,
Be who you must,,
That's a part of the plan."
The show wasn't over. Toasting a newlywed pair, Albertson sang a rare beauty, "Be Warmer This Winter" by Stan Freeman and Franklin Underwood:
"An eager heart can cast a warming glow
So be my all
All through the season
Each lovely reason
My heart will sing.
Be warmer this winter,
Be with me this winter
And make our love forever spring"
The last encore was one of Albertson's signature songs, "Love Walked In" which gave every member the band great solos. Each new show Albertson does finds him more relaxed and this night he was having a ball with the musicians and the feeling was infectious to everyone. What a wonderful way to end a rather dreary season!
Scot Albertson performs every Wednesday night at La Mediteranée with Jerry Scott, 10 PM – 1 AM and will be appearing at the Kitano in New York on Wednesday, June 17th.
  —
Joe Regan, Jr. – Cabaret Scenes   January, 2009

Grateful Recognition to


Mr. Fabio Viola – Musica Black   November, 2008
Scot Albertson has been doing a monthly engagement at the Laurie Beechman for more than a year, usually with a band that includes a solid brass section: trumpets, trombones, reeds, bass and percussion, as well as his MAC award winning musical director, Daryl Kojak, at the piano. He just recorded his fourth album which will be released at his December engagement. For his October performance, the substitution of a string section for the brass was a unique experience in New York cabaret. Albertson's repertoire was enhanced excitedly by the background orchestrations and solo riffs by the musicians: Antone Silverman and Cenovia Cummins on violins, Chris Cardona on viola, and for this performance he had Tom Hubbard on bass and Rex Benincasa on percussion.
Albertson opened with a lively "As Long As I'm Singing" (lyrics and music by Bobby Darin) and every following selection was highlighted by the strings. On his familiar ballads: "His Eyes, Her Eyes" (Bergmans-Legrand), "When I Look in Your Eyes (Bricusse), "Sail Away"/ "No Other Love" (Coward/Rodgers & Hammerstein), "Orchids in the Moonlight" (Youmans/Eliscu & Kahn) and, especially, "I'll Be Seeing You" (Sammy Fain-Irving Kahal), the melodies soared with the two violins and one viola and showcased Albertson's wonderfully romantic baritone.
In the middle of the show, Kojak stepped down and Jerry Scott accompanied Albertson on "Music in the Night" (Andrew Lloyd Webber & Don Black). Scott's pianistics played the familiar melody as if it were a Tchaikovsky concerto.
On two novelty numbers, "Pass The Biscuits, Mirandy" and "Put Your Shoes on Lucy," the string section suddenly became country western fiddlers, and Albertson bounced around the stage having a ball.
And on the rare number that was on his third CD, "You Gotta Taste All The Fruit" (Bergmans-Sammy Fain), dropped from the musical Something More and sung by Mae West (of all people) in Myra Breckenridge, the pure pleasure of Albertson's rapid fire delivery of the song was joyously punctuated by his string section!
This was Scot Albertson's most relaxed performance. Musically, he modulated his great vocal instrument and this turned out to be one of the best demonstrations of what a thrilling vocal range he has. Sometimes he sounds like Vaughn Monroe ("Racing in the Moon" is one of his staples) or the great romantic crooners like Russ Columbo. Most of the time, he sounds only like himself, a contemporary singer who can sing anything.
  —
Joe Regan, Jr. – Cabaret Scenes   November, 2008

[reviewing February 7, 2008 Performance]…
Fate Revealed itself on the Winter evening of February 7th, when I went to the Laurie Beechman Theater at the West Bank Café. This was all By Design, of course, as I took my seat to watch Scot Albertson celebrate the release of this third album of Standards. The room was packed full of Scot's fans and friends as Albertson knows how to throw a party, and he did not disappoint. The music flowed for a good 90 minutes showcasing eighteen songs— many of which were medleys.
The evening started out with the first tune on his CD, "You Gotta Taste All The Fruit" which showcased Albertson's strong tenor and swinging band. Accompanying Albertson was his long-time pianist and Musical Director, Daryl Kojak along with a stellar line up of jazz greats which included Cameron Brown on bass, "Sweet' Sue Terry on alto sax and flute, Dave Pietro on tenor and Tony Jefferson on drums. The band also swung like nobody's business on the tunes "Love Walked In", "It All Depends on You" and "Save The Bones For Henry Jones".
Albertson missed his Broadway calling. He can belt out a tune with a power that can carry to the last row, balcony at Radio City, yet, it is with his ballads that he really shines. His raw sensitivity reveals a performer who is out to deliver the goods straight from the heart. Or maybe it was Fate that delivered the goose bumps on "It's The Dreamer In Me. " Still, I think it was between Albertson's heart and soul exuding from every pore coupled with Daryl Kojak's lush notes that enveloped and danced around Albertson. "Only Love" was another gorgeous ballad that not only brought tears to my eyes, but also to that of the singer.
One of the highlights of the evening was special guest accompanist Jerry Scott, a well-known face on the Cabaret scene. On "If You Love Me (Really Love Me), " it was only Albertson and Scott, but you would never have known it as Scott has an entire orchestra that came out of his fingers. "Sweet" Sue Terry's flute added a sweet touch to a beautiful tune.
Scot Albertson has shown that Fate Revealed by Design, is not only the name of his new CD, but that there is a man behind the curtain and he's been very busy perfecting those chops. Scot Albertson and Daryl Kojak and band will be back at the Laurie Beechman Theater on Friday, April 4th at 8:00pm. What a great way to spend an evening—a must catch!
  — Jamie Cosnowsky – Jazz Improv Magazine   April 2008

[reviewing Fate Revealed By Design]…
It is logical to assume from Scot Albertson's annually expanding series of CD's that fate played a part in his singing career. Well, such a conclusion is hard to avoid. First Albertson exclaimed, I Got a Date with Fate [!], as if fate were agreeing to an appointment so that fate and Albertson could sit down for some lunch and discuss mutual opportunities. That album, the culmination of a lifelong ambition, presented Albertson as a singer with integrity and ambition who followed his own muse. Then, coincidentally— or probably not—in 2006 Albertson released Fate Just Won't Wait [!], as if he were caught in the headlong onrush of fate's inexorable progress, scooping up Albertson and other mere mortals in its sweep. Albertson's good fortune as a singer continued when he became a regular at Danny's Skylight Cabaret Room, Albertson having to pinch himself to make sure that such dreamed-for circumstances were real. And now, once again, Albertson has released yet another fate-based but revelatory musical testament, as if the previous two CD's were but a prelude to this one, much anticipated, with the Fate Revealed by Design. Daryl Kojak takes over the roles of pianist, arranger and producer, and fate once again has intervened to facilitate Albertson's ambition to sing. Now Albertson has released a CD of customized arrangements that showcase the unique qualities of his voice. And what qualities have led to Albertson's success in establishing a singing career? Albertson says that his casting of his fate to the vagaries of such an initiative results from—or maybe reciprocally—leads to his four guiding principles, of which he makes mention whenever the opportunity arises to do so: faith, love, trust, and an open heart.
These principles are included in this review because they give some insight into Albertson's choices of songs that reinforce his fate-full theme. At first, the opening song, "You Gotta Taste All the Fruit," energetic and motivational, seems to be of an out-of-place sybaritic nature that is at odds with his wholesome image: "You gotta drink all the wine / You gotta sow every oat." But then, the choice of the song does support Albertson's belief in a "Larger Life Energy," and the lyrics do command, fairly lustily, that "You gotta sing every song [!]". The song serves as an entertaining introduction by the back-up group, with the horns punching up the accents and Kojak injecting a moment of humor with his ragtime-like ending, up to its final plink. In addition, Albertson introduces one of his trademarks at the end of "You Gotta Taste All the Fruit": the sustained high note, on pitch and forcefully impressive. All of this happens within the song's two minutes. Concision has its benefits. And so, as compelled by the first song's lyrics, Albertson does sing every song he can within the CD's 54 minutes. On the second track, Albertson slows—and I mean, slows—into a stately ballad that conforms to the dreaminess of the song's mood. "It's the Dreamer in Me," true to self, involves Albertson's cushioning of notes, his emotional delivery of lyrics and, as always, his Irish tenor-like feeling that he transmits to his audiences with swelling dynamics and effective use of his wide range. "If You Really Love Me" revives Albertson's dramatic instincts, as he is backed solely by "Sweet" Sue Terry's flute and Kojak's recital-like rubato accompaniment, all in a "Danny Boy"-like upper register interpretation that emphasizes tenderness of the pauses. "If You Really Love Me" contains nary a whit of jazz harmonies or blue notes, but it is a cabaret-inspired show-stopper nonetheless for the romantics within hearing range.
The spirited lead-in of "You Gotta Taste All the Fruit," it turns out, doesn't hint at the styles, or even the tempos, to follow. The rest of Fate Revealed by Design consists of theatrically interpreted standards, except for that first track and the rousing "Love Walked In," which, spliced onto "A Nightingale Sang in Berkeley Square," provides an opportunity for the musicians to solo. Splashing chords introduce Rod McKuen's "A Man Alone," which is consistent with Albertson's affinity for dreaming and establishing emotional connection. The medley (a form Albertson and Kojak seem particularly to appreciate) of "A Perfect Love" and "The Nearness of You" applies similar affecting style to both songs. After Albertson and Kojak glide into "The Nearness of You," reaching narrative heights from the high notes, the culminations of various crescendos, one can imagine him singing in a pub on St. Patrick's Day, the green beer flowing and the patrons moist-eyed with nostalgia. Sure enough, the perception of the Irish tenor style is accurate; Albertson leaves no doubt about it. He sings "Danny Boy" with all of the verve and tugging at the heart strings that he can muster. But more than "Danny Boy" happens. As is his wont, Albertson sandwiches the song in a medley. "Just a Prayer Away" by Tin Pan Alley composer Charles Tobias precedes "Danny Boy," which is followed by "Bring Him Home," Valjean's prayer from Les Miserables and the audience-pleaser that never fails to impress with its rousing last note. Finally, Albertson and friends end Fate Revealed by Design with probably a promise, and not a farewell, by means of the sweetly performed version of "I'll Be Seeing You" supported by a string quartet and piano and containing a final memorable sustained high note. Who knows what fate may bring tomorrow? So far, fate has been kind to Scot Albertson by fulfilling his aspirations, and Albertson has given much appreciation for fate's beneficence in return.
  — Bill Donaldson – Jazz Improv Magazine   March 2008

In his third and best CD, Scot Albertson continues mostly swimming in the deep end of the romantic pool of great songs, but not drowning. He keeps his noble head high and floats easily on waves of exposed emotion, not afraid to dive into material whose very ardent tone would sink other singers. He does so "with sentimental ease," to quote a phrase from the included "A Man Alone" by Rod McKuen. On this and one other number, he is accompanied superbly and dramatically by Jerry Scott and shows particularly thoughtful phrasing. Other selections reunite him with his regular—and talented—musical director/ pianist Daryl Kojak, with 11 musicians in all heard on the CD.
Fate Revealed by Design reveals a singer a bit more involved and at ease… He can be stalwart or gamely brash, yet a certain formality remains… Scot's strong suit seems to be playing the ultra-sincere balladeer, and his heart does seem to be in the heartfelt proclamations of affection. When he sings of love that is "Written on the Wind" (whose lyric says it's also "written in my heart") it sounds like that true love is proudly written in truly indelible ink. Repertoire ranges from the very well known ("Put On a Happy Face") to the rewardingly rescued relative rarity ("Count Every Star"; "It's the Dreamer in Me").
  —
Rob Lester – Cabaret Scenes   March, 2008


Scot Albertson Shines on his new CD: Fate Revealed by Design
This is Scot's 3rd CD recorded in 4 years, and he has done a fantastic job of finding and interpreting songs from the various decades of The Great American Songbook. Some a lot of you have discovered (How Deep is the Ocean, The Nearness of You, etc.) and some only a few, such as the J. Dorsey/Van Heusen treasure, lt's the Dreamer in Me. I especially liked the energy Scot puts into such standards as It AII Depends on You and Love Walked ln. But he also captures the depth and power of the newer Bring Him Home as well as his other ballads. And I keep going back to Berlin's How Deep is the Ocean: although it's been sung many times, many ways, he still makes it his own. In his liner notes he is very generous in crediting his friends and musicians for their help. Keep up the faith. It's working.
You lucky people, if you live In the New York area, you will be able to see and hear Scot Albertson at the Laurie Beechman Theater at the West Bank Café (Just west of 9th ave on 42nd St.) He'll be there Thurs. Feb. 7th at 7pm, Thurs. March 6th at 9:30pm and Fri. April 4th at 8pm.
  —
Jerry Laird – New York Sheet Music Society   February, 2008

Fate Just Won't Wait with an ebullient performer like Scot Albertson on stage, backed by a top-grade band led by talented Daryl Kojak. A tasty list of popular songs reflects Albertson's strong belief in "faith, love, trust, respect and an open heart," and the musical delivery exhibits Albertson's unique effervescent optimism and Kojak and Company's jazz imagination.
At the Laurie Beechman Theater, the mix travels from up-tempo, like a lesser-known Fain/Bergman tune, You Gotta Taste All the Fruit, to the meditative Day Dreams Come True at Night (Freed and Jurgen). The latter tune evinces an old-fashioned mood with old-fashioned sentiment, although Kojak's jazz piano zips it up with a stimulating edge. Albertson croons the verse of WWII classic, A Nightingale Sang in Berkeley Square (Maschwitz and Sherwin) and then snaps into a bouncy swing with the Gershwins', Love Walked In, with jazz riffs all around.
Albertson's patter is judicious but his enthusiasm is palpable. He has a rangy tenor that can stretch with pleasing depth, soar into the heights, and hold the notes easily. . . His real strength is his understanding of what the songwriters wanted to say and convey that to the listener. He is joyful with his swing numbers and heartfelt sentiment infuses the ballads, where Albertson is most effective, inhabiting them with intensity. Dick Haymes' hit song from yesteryear, Count Every Star (Gallop/Coquatrix), paired poignantly with Irving Berlin's How Deep Is the Ocean.
At one point, Albertson switched accompanists, bringing New York piano bar favorite, Jerry Scott, on stage, to back him with lush chords on Racing With the Moon. Here again, Albertson takes a tune made famous by an earlier performer, Vaughan Monroe, and presents it his way.
Ray Jessel's lovably ridiculous ditty, The Things You Do, was lovably comic. Albertson might include other silly songs in future shows, to deliver with similar laid-back wit.
Kojak is responsible for the superb arrangements and his band must be mentioned: Cameron Brown on bass, Tony Jefferson on drums, Scott Wendholt on trumpet and "Sweet" Sue Terry sweet with sax and flute.
Scot Albertson and Daryl Kojak will return to the Laurie Beechman Theater on September 26.
  —
Elizabeth Ahlfors – Cabaret Scenes   August, 2007

On August 2nd, 2007, Jazz vocalist Scot Albertson celebrated the success of his second CD, Fate Just Won't Wait, at the Laurie Beechman Theater, downstairs at the West Bank Cafe on 42nd Street. His musical director and pianist, Daryl Kojak, also wrote some of the fine arrangements. The members of the Daryl Kojak Jazz Quintet were: "Sweet" Sue Terry on alto sax, Scott Wendholt on trumpet, Cameron Brown on bass and Tony Jefferson on drums. Additional arrangements were collaborations by Albertson and Broadway musical director Robert Felstein.
The creme-de-la-creme of cabaret society were out in force for Scot's act, which is a huge compliment to his talents. He played a long set, about an hour and a half, which included eight songs from the CD, and six or seven other tunes, while people enjoyed drinks and food in the spacious theatre.
The music was bright and lively, well-arranged, and diverse enough to hold the audience's attention throughout the evening. Trumpeter Wendholt and saxophonist Terry played some nice lines, and added most of the improvised elements to the set.
"Kiss Her Now," by Jerry Herman, was one of the best songs of the show. Dark and mysterious, Kojak's expert piano fills, stretched out underneath Scot's emotional vocals. An interesting note: several of the arrangements were medleys. Scot combined "A Nightingale Sang in Berkeley Square" with "Love Walked In;" "Count Every Star" with "How Deep is the Ocean" (very expressive voice with piano chords keeping a simple beat), and "The Best is Yet to Come" with "From this Moment On," the latter of which had an exciting double-time swing.
On Loesser and Schwartz' "Love Isn't Born (It's Made)," Scot started singing ácapella, then set the tempo for the band to enter. He has an amazingly broad range, great sense of dynamics and a pleasing vibrato.
Another highlight of the set was Coleman/Zippel's "With Every Breath I Take." On this beautiful ballad, Scot showed his control of the music with a strong depth of feeling. Scott Wendholt seized the moment, played a very hip trumpet solo, and left the audience yelling for more.
As a pleasant surprise, Scot Albertson brought up Jerry Scott to accompany him at the piano on Eubie Blake's sentimental song, "Memories of You." The crowd received him with a warm round of applause.
Altogether, I was very impressed with Scot Albertson. He was organized and appreciated the people who helped him to bring about this performance. As an example, he took a few minutes in the middle of the set to light, and then hand out, birthday cakes to at least 5 audience members! Scot will be appearing once again at the same location with pianist Daryl Kojak on September 26, and readers would be wise to put that date in their calendar.
  —
Lucy Galliher – Cabaret Exchange   August, 2007

At one time, the music world was filled with what were called crooners, but it's a style that is harder to come by nowadays. How refreshing it is, then, to listen to Scot Albertson's debut album, Got
A Date With Fate, which was originally released in 2004. Having started out at the age of seven as a boy soprano with the Little Singers of Norwalk, Connecticut, Albertson left music behind when he began his career as a police officer and then, later, as a U.S. border patrol agent. On retirement, Albertson returned to his love of music, no longer that high-voiced kid but now a rich-voiced baritone whose clear, clean approach to a song serves the lyric and melody with both respect and, well, just plain fun.
Bouncing through the lively opener, Put 'Em
In a Box, Tie It With A Ribbon, Albertson and his musicians set
the stage for a wonderfully satisfying program that includes a warmly
performed Shadow
of Your Smile (complete with the seldom-used verse that most singers
omit because they don't realize that it is one of the best song setups
ever created), energetic Orange
Colored Sky…,
tender What
Are You Doing the Rest Of Your Life? and I
Love You For Sentimental Reasons, and strong Come
Rain or Come Shine. There's nothing revolutionary in Got A Date
With Fate, it's just good, old-fashioned fine musical entertainment.
  — Jeff
Rossen – Cabaret Scenes   June,
2007

[reviewing Got A Date With Fate]…
Fortunately enough, Scot Albertson tied his
late-blooming singing career to the drawing power of
Danny's Skylight Cabaret Room, where he released
his first recording, Got a Date with Fate, in 2005.
Albertson also was the last performer
to appear at Danny's when it closed on December 30,
2006. His appearance there at Danny's closing coincided
with the release of Albertson's second album,
Fate Just Won't Wait. Such a short-lived, though mutually
beneficial, fated connection.
Previously a police officer in Norwalk, Connecticut
and then a border patrol agent, Albertson
decided to elevate his singing interests once he was
freed from the day-to-day responsibilities of protecting
the public from various forms of harm. After
studying with Richard Lissemore, Albertson was
ready to pursue his ultimate goal: singing to much
acclaim in major New York venues.
So Albertson sang to much acclaim in major
New York venues.
The reviews confirmed the appeal of his voice,
as did the praise from musicians and audiences. Indeed,
Albertson was able to attract major musicians
like Danny Gottlieb, Cameron Brown and Scott
Wendholt to participate in the recordings and to perform
during his nightclub engagements. In addition,
Albertson enjoyed the concision, wryness and space
allowed by Jon Werking's smart arrangements, which
highlight the strength of Albertson's tenor.
Indeed, Albertson does approach the songs,
some traditional swing compositions and some romantic
ballads, with the inherent intensity of an Irish
tenor. He goes for the sustained high note at the end
of "What Are You Doing the Rest of Your Life" to
demonstrate his broad range and to cap off the song
with a memorable, but in the end effortless, stretch
that listeners don't expect. Albertson… allows the piquancy
of the lyrics and the captured feeling of the
song to carry the performance. Though Albertson
doesn't stray too far from written melody, he conveys
the spirit, the joy of singing, even on the recording.
On "Almost Like Being in Love," for example, the
voice-and-bass duo sets up the track's buoyancy as Albertson
pushes the beat with unabashed but matured
eagerness. But the main chorus of the song doesn't
follow. Rather, an interlude during which the horns
supply punch and uplift sets up Albertson's more relaxed
statement of the chorus—which leads to pianist
Werking's own improvisational interlude backed by
the same horn arrangement before the fadeout.
"Come Rain or Come Shine" combines Albertson's
fondness for ballads and his sense of swing
as guitarist Greg Skaff leads into the easy-going version
with a quarter-note shuffle, a perfect lead-in for
Albertson's happy-go-lucky approach. Supporting
his verve and irrepressible sense of good-natured optimism,
the group continues in the same jaunty sense
of stroll until the end's deceleration framed again by
Skaff's riff , mirroring the beginning. Contrasting
with Werking's swing arrangements are his flowing
interpretations of ballads like "My Foolish Heart."
This one seamlessly moves from his poignant piano
intro over bassist Mark Egan's ostinato lines into
Albertson's affecting version, as the upper reaches of
the melody keep rising to test his range and his ability
to inhabit the lyrics.
Scot Albertson is a singer true to his interests
and his personality. No one can accuse him
of imitation or even of following in another singer's
footsteps. Albertson is creating his own path with
the straightforward, to-the-heart male tenor voice
that seldom is heard in clubs any more.
  — Bill Donaldson – Jazz Improv Magazine   April 2007

[reviewing Fate Just Won't Wait]… What
turns a cabaret act into jazz? Swinging arrangements, improvised
solos and a great selection of songs, for starters. Scot Albertson
has delivered on all three counts in his second CD (following Got
a Date With Fate in 2005). The sparkling arrangements are credited
to Albertson, his pianist and musical director Daryl Kojak and
Broadway music director Robert Felstein. The charts allow plenty
of space for solos, mostly by Kojak or Scott Wendholt on trumpet.
Though it runs short for a CD (42:53), it is a perfectly paced
nightclub set, with the feeling of a live performance. Starting
unaccompanied on the verse of a lesser-known Frank Loesser vehicle "Love
Isn't Born (It's Made)", Albertson alternates between swing tunes
and ballads, reaching an emotional peak on the longest cut, Cy
Coleman's "With Every Breath I Take," featuring a muted trumpet
solo and feel. Then, he wisely follows this magic moment with two
tightly-arranged medleys, followed by a final toast to the audience,
like an encore, "On My Way to You".
The unseen stars of this show are
the composers of these great songs. Written primarily for Broadway
or Hollywood, most of these three-minute stories in song have the
musical merit and poetic depth of operatic arias of the 19th century.
Yes, there are also some light-weight song choices here, but they
pan out surprisingly well. At first, I was suspicious of Vaughn
Monroe's theme song, "Racing with the Moon", but the chart highlights
its clever chord sequence, which should appeal to jazz instrumentalists.
A similar ballad,
"Everything I Have is Yours", written by the under- appreciated Harold
Adamson and Burton Lane, was made famous by Billy Eckstine. However,
I like this softer reading, with less vibrato and spare, piano trio
backing. As an added treat, in both of these ancient ballads, we
hear the short but seldom-heard verses.
The second half features three
medleys, all effectively arranged. The first medley pairs "You
and I"
(by Leslie Bricusse, for the film Goodbye Mr. Chips) and a gorgeous
1967 Mancini movie theme, "Two for the Road" (words by Bricusse).
The next combination, Cy Coleman's "The Best is Yet to Come" and
Cole Porter's "From This Moment On", was inspired, as it comes after
the album's high point, featuring Cy Coleman tunes from 30 years
apart, in effect saying, "You think that was good? You ain't heard
nothin' yet."
The oldest warhorse on the set
list is Rodgers &
Hart's 1928 "You Took Advantage of Me". It's a hip song, tightly
arranged, with rollicking solos by all. Scot let the band have its
say here, and they said a lot in their abbreviated time slots. The
band even got to call the singer a "sap" in the coda. Isn't that
every band's secret dream? And the dream of every boy singer who
goes on to other careers (police work in this case) is to chase that
childhood dream of singing great songs when you've traveled enough
roads in life that the words and music make deeper sense to you and
your audience. That's what Scot Albertson has done in his very welcome
second CD. He shows great range—tender in the tenor's head voice,
in full-throated roar on the swingers, and deep into the baritone's
basement, when needed. This CD was released at Danny's Skylight Cabaret
Room on December 30, 2006. Last year, he performed at the Iridium
and the Metropolitan Room in Manhattan. Catch him when you can.
  — Gary Alexander – Jazz Improv Magazine   March 2007


A companion piece to his debut CD Got a Date with Fate is Scot Albertson's Fate Just Won't Wait with a similar mix of standards, but this time more Broadway and more emotional involvement… [Scot was] nominated in MAC's Jazz Vocalist category and working with jazz musicians on this album which bills him as "Scot Albertson, Jazz Vocalist"… Soaring through a briskly invigorating version of Rodgers and Hart's "You Took Advantage of Me" (one of the album's best tracks), he seems at heart to be a balladeer. But the jazz cloak is starting to fit him pretty well as he's led by experienced jazz guides.
Of the six-man band, only trumpeter Scott
Wendholt is a carryover from the group playing with him on his first CD.
Daryl Kojak (another nominee in the Musical Director category) is on piano
and did the synthesized string arrangements, but with nine of the dozen
arrangements are credited to Robert Felstein and Scot. On the fervent
side, there's "Kiss Her Now" (the Jerry Herman carpe diem plea from Dear World). But for a more casual wink at romance, there's the swinging "Love Isn't Born (It's Made)." He dedicates it to this year's MAC Lifetime Achievement Award winner Jan Wallman, the grand lady who has run various clubs over the decades. She has taken an interest in his work and recommended this Arthur Schwartz/ Frank Loesser movie song as being "a good fit." (She was right. He sings this one in a way that shows more comfort and confidence. At other times, Scot seems to be a bit tentative, less "at one" with the song, or backing off from a note.)
Three of the tracks show a fondness many
cabaret singers share for the love of the medley and finding
two songs that seem fated to be partnered. The marriage between "The Best
Is Yet to Come" and "From This Moment On" seems natural and Scot is convincingly
assertive on this upbeat and driving cut. A refreshing choice
is "Summer
Was," written by another MAC nominee, John Wallowitch. It is combined
with "The Summer Knows," the Michel Legrand theme from the film Summer
of '42, which evokes memories of summertime with its Marilyn
and Alan Bergman lyrics. Legrand-Bergmans ballads are apparently favorites,
another of theirs appearing here ("On My Way to You") and still another
("What
Are You Doing the Rest of Your Life") on his earlier CD…
  — Rob Lester   April,
2007

Scot Albertson's new recording, "Fate Just Won't Wait" is
a total delight, from start to finish.  Scot has a very appealing
voice, ranging from sweet and intimate to full-bodied and strong.  He
demonstrates a wide range of expression, always in control, always
exhibiting a deep understanding of the songs and especially, the
lyrics.  So often, cabaret singers do not seem to grasp the
lyric; this, Scot does admirably.  I enjoyed listening to
this new release…it presents several tunes that are not as widely
known as the more familiar ones.  In this, Scot has shown
his ability to find material that is well-suited to his delivery,
while not neglecting some of the great established standard songs.  Scot
is a true exponent of the "Great American Songbook" and
this cd is a wonderful presentation of this music.  An excellent
group of musicians will be heard backing Mr. Albertson: Daryl Kojak,
especially, on piano.  The accompaniment does not only support
the singing…these guys really play and participate equally with
Scot in the music-making.  So…if you are looking for a great
new recording…a tasteful mix of well-known and lesser-known songs,
all recorded splendidly, sung by a real artist….this one will
fill your bill!!  Piano, bass, percussion, trumpet, sax, flute,
as well as Midi arrangements…what more can one ask?
  — Dr. Joe Utterback
January, 2007

"Scot
Albertson's new release, "Fate Just Won't Wait", is another
great recording from this talented singer. If you liked "Got
A Date With Fate", you'll love his latest release."
— Mark
Egan   January 2007
New
York could not be better off December 30th than the final show
in Danny's Skylight Room, not only for 2006 but forever because
the showroom is officially closing that night.
Scot Albertson's "Fate Just Won't Wait" show
celebrates his new CD which is hot off the press. Scot will have
with him a great group of musicians: Daryl Kojak, music director
and pianist; Cameron Brown on bass, Dwayne "Cook" Broadnax
on drums, Rob Scheps on saxophone and flute, and Scott Wendholt on
trumpet. Scot possesses a beautiful vocal instrument in the tradition
of Dick Haymes and Bob Eberly. With that great band behind him Scot's
voice will soar to the heavens and let's hope the skylight
isn't blown off by some of his ravishing high notes. With Scot's
great looks and great vocal gifts this show I expect this will be
the most romantic evening of the year in cabaret! Scot's show
will be the penultimate (in every sense of the word) night in Danny's.  If
we are forced to say goodbye, what a great way to say good bye to
Danny's.
  — Joe
Regan Jr.  December 2006
Stunningly
beautiful.  Scot sounds glorious on this recording and what
a joy it was to hear them all live at the CD Release party!  Kudos
to Daryl Kojak on his beautiful contributions – as well as
to everyone who played a part in this heartfelt recording.
— Laurie
Krauz   January 2007
"Great
vocals! Great band! I thoroughly enjoyed this CD, and look forward
to many more from such a wonderful talent!
— Alice
Frazier   January 2007
[reviewing Got
A Date With Fate]… Mr. Albertson could be a
rising talent, perfectly suited to this music… His arrangements
and backup are great, sensitive and clever… Mr. Albertson
has chosen his genre well. His clear, unaffacted tenor is perfect
for interpreting standards like these. I detected almost no
flaws in tone or interpretation. This music really does come
naturally to him. I was very surprised at the quality of his
backup and arrangements. The hyperbole with which he credits
his arranger & pianist Jon Werking is actually deserved.
Very clever arrangements, many unexpected moments, sensitive
work (I'm an arranger, so this matters to me). Similarly, the
backup musicians are thoroughly professional. Mr. Albertson,
you really lucked out for a first attempt…
  — CDBaby.com   June
2004